Dursley Welcomes Walkers is a volunteer organisation whose mission is to promote walking activities in the local area and encourage visitors to the town.
Each year we hold a walking festival in October which is very popular with residents and walkers from further afield.  During the rest of the year we have projects that improve  access to the countryside for all.
We rely on grants, donations and sponsors to fund these activities.  We are grateful to the many individuals, organisations and Dursley Town Council that have contributed to this over the years.
You can support this work by attending our annual walking festival and make a donation after the walk.
You can also purchase the items below to help support our work
A fabulous compilation of walks in our area.
Copies can be purchased from 
Cam Parish Council Offices, 
The Council Shop
4 Noel Lee Way 
Cam GL11 5PS

Dursley Library
May Lane
Dursley
GL11 4JH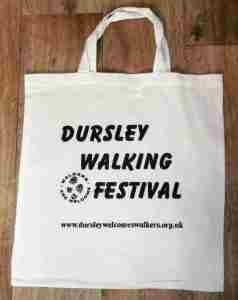 Launched for our 2018 walking festival, these bags proved to be very popular.
You can purchase them from
Inches Fabrics
39 Parsonage Street
Dursley
GL11 4BP
Explore Our beautiful countrySIDE